Mission Statement
To serve the spiritual needs of our community through the sacraments and teachings of the Catholic faith, reaching out through prayer, faith, and charitable works to improve life and bring Christ's love to all.
---
Vision Statement
Our vision is to be an active engaged community of Christ's disciples welcoming everyone through evangelization.
---
Our Logo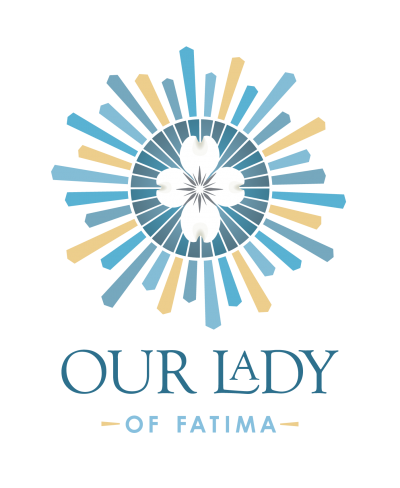 There is a great amount of symbolism contained within Our Lady of Fatima's logo. There are three distinct ideas conveyed by the logo, each revealing important features of the church and the church's history.
1st Idea: Note the dogwood bloom in the center of the logo. The flower alone is packed with symbolism of the gospel itself. The irregular size of the petals, with the bottom petal being longer than the others, mimics the shape of the cross. The sharp points on the blossom's center mirror the crown of thorns cruelly forced on Christ's head before the crucifixion. Rust stains mark its otherwise pure white petals, just as nails pierced the pure Son of God, forever leaving their mark. This area of the symbol stays true to the church's previous logo, which also featured the dogwood bloom.
2nd Idea: The inner circle surrounding the dogwood. One of the most beautiful areas of the church building is the sanctuary which contains incredibly unique stained glass windows. This area of the logo aims to convey that stained glass feel which is one of the identifying factors of the church.
3rd Idea: Surrounding the logo are bursting rays of light. The Bible tells us many times that we are to be the light of the world, following Christ's example in John 8:12 where he says that "I am the light of the world. He that followeth me shall not walk in darkness, but shall have the light of life." This light is what sets the church as a body apart from the darkness of this world, and to be a light is one of God's greatest commandments. The rays of light are also representative of the history of the church, representing the very story after which the church is named.
Just as symbolic elements of the logo were thoroughly explored, color choices were also important. Blue reflects a pure tranquility that is often shown in the Marian blue garments of Our Lady. Yellow represents light which is necessary to convey the warmth and energy of our physical sun, as well as our Heavenly Father.
The overall goal of this logo is to represent the unique church body, while honoring and uplifting our Savior. Each element works together to accomplish this goal in a way that strongly identifies the church values.