Rev. Peter Iorio
Pastor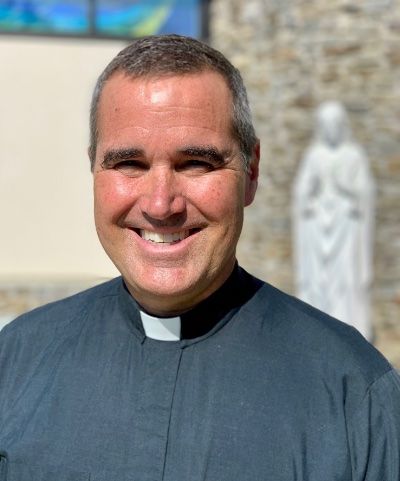 Father Pete was born in New Jersey and grew up on Signal Mountain, outside of Chattanooga, TN. He is the oldest of four. His father and two brothers and their families live in the Chattanooga area. His mother died in 2017. His sister and her family live in Nashville.
Fr. Pete was ordained at his home parish on the Feast of the Transfiguration, August 6, 1993. He served at St. Dominic's in Kingsport; Notre Dame High School in Chattanooga as well as being diocesan coordinator of youth ministry; on the formation faculty of Mundelein Seminary in the Archdiocese of Chicago; Sacred Heart Cathedral in Knoxville as well as being vocation director and director of ongoing formation for priests; pastor of his home parish, St. Augustine, Signal Mountain; pastor of St. Joseph the Worker in Madisonville; pastor of St. Therese of Lisieux in Cleveland, TN; (on sabbatical in Italy) and pastor of St. Mary's in Johnson City for 8 years before coming to Our Lady of Fatima.
Fr. Pete is a member of an ecclesial movement (like Cursillo and the Charismatic Movement) called Focolare/Work of Mary. The spiritual charism is unity. See John 17:21. He tries to live the Gospel by what is called the Art of Loving.
Fr. Pete speaks Spanish, French, some Italian and loves words and phrases of other languages. He loves people and cultures and traveling. He also enjoys hiking, gardening, yardwork, history and visiting family and friends. Fr. Pete enjoys cooking/grilling but is by no means a gourmet. He enjoys theatre both professional and amateur.
Fr. Pete is delighted to be at Our Lady of Fatima and is eager to meet the parishioners and to serve them as Jesus called us to serve.
[email protected]
(865) 982-3672 Ext No. 11
---
Rev. Andrés Cano
Parochial Vicar


Born and raised in Colombia, Father Andres is the third of four children.
Fr. Andrés completed his formation for the priesthood at Mundelein Seminary in Chicago, and then he was ordained by Bishop Richard Stika for the Diocese of Knoxville.
Before coming to Our Lady of Fatima Catholic Church, Father Andres served in other parishes in our Diocese.
His topics of interest and tastes are diverse and eclectic. He likes learning a little bit about other languages, cultures, nature, science, history, art, music, etc.
[email protected]
(865) 982-3672 Ext. # 19
---
Rev. Mr. Bill Jacobs
Deacon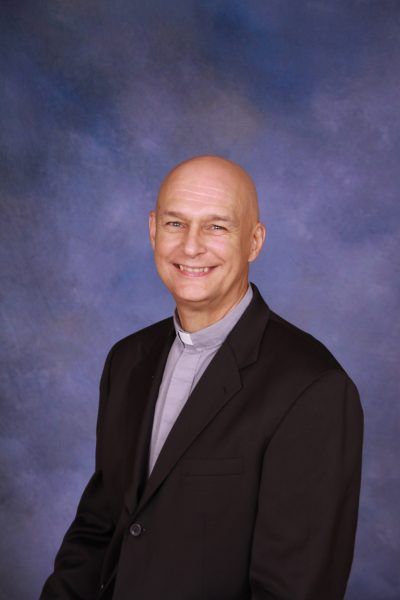 Deacon Bill Jacobs came to the Diocese of Knoxville from West Palm Beach FL.
Deacon Jacobs currently serves Our Lady of Fatima Parish in Alcoa. He and wife, Toni, are parents to three grown sons, who live in Nashville.
Deacon Bill resides in Louisville, and is retired as a physician for the Department of Veterans Affairs in Knoxville.
[email protected]
(865) 982-3672
---
Rev. Mr. Scott Maentz
Deacon


Deacon Scott was raised in Holland, Michigan. Career moves brought him to many places around the country and he settled in Tennessee in 2001 with his wife Christine. They have five children and thirteen grandchildren.
Assigned to Our Lady of Fatima in December 2018, Deacon Scott previously served as a deacon at Holy Ghost Church in Knoxville. He is excited to be a member of our community.
Deacon Scott is the Communications and IT Director for the Handmaids of the Precious Blood, a community of contemplative cloistered nuns residing in Jefferson County, and he also assists the Diocese of Knoxville with website development and video production. Deacon Scott was ordained a permanent deacon in June 2016 at Sacred Heart Cathedral by Bishop Richard F. Stika.
His primary ministry is to the homeless, heading up the Knoxville Bridge Ministry for the diocese, which serves lunch monthly at the Knox Area Rescue Ministries (KARM) outdoor courtyard in downtown Knoxville. You can learn more about Deacon Scott at his website, deaconscott.com, where he publishes his homilies and other items of interest to him.
[email protected]
(865) 310-6649